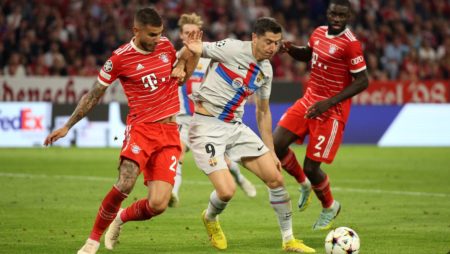 Bayern Munich has defeated Barcelona again in Champions League, this time with a clean score of 2-0. The Germans are now unbeaten from 30 group stage meetings in the prestigious competition. It was actually the Catalans who had the clearest scoring chances, especially during the first half, but Bayern's experience was what made the difference in the end.
The first half ended 0-0, as Xavi Hernandez's men were more in control of the game than the Germans, despite failing to convert. But the Bavarians reacted quickly in the second half, finding the goal in the 50th minute of the meeting. It was Lucas Hernandez who headed home from a corner kick after the arc of the Joshua Kimmich. The goal was clearly seen to have psychologically affected the Barcelona players, who only 4 minutes later were punished again by a quick action by the Germans. This time it was Leroy Sane who was quite calm in the area, positioning himself well and sending the ball received by Jamal Musiala into the net.
Barcelona tried to create opportunities for an overturn of the result, but the hosts lined up quite well in their half-field, leaving very few spaces. Lewandowski had some good chances to score, but the Polish bomber failed to find the net against his former team.
Bayern has thus won both opening matches of the Champions League group stage, and leads Group C with 6 points. Barcelona and Inter have 3 points each, having achieved respective victories over Viktoria Plzen. It seems that the race for qualification will be tough in Group C, as the matches between Inter and Barcelona will most likely be direct matches for qualification.