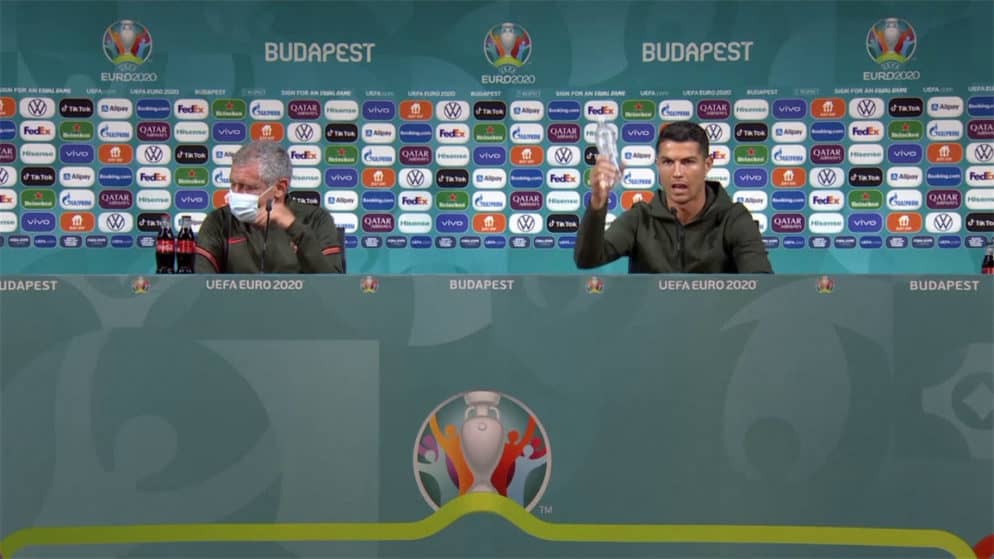 It is no secret that Cristiano Ronaldo dedicates a large part of his success to healthy living and strict diet. This was also noticed at the press conference that the Portuguese superstar gave for Euro 2020.
Upon arriving at the conference hall, Ronaldo spotted 2 bottles Coca-Cola placed on the table for promotional reasons. To everyone's surprise, it seems that this has "irritated" the attacker, who took both bottles and put them aside. Cristiano then took a bottle of water in his hand, pointed it at the camera and told reporters, "Aqua!" - which in Portuguese means water.
The Coca Cola giant is one of the main sponsors of the European, including TikTok and Heineken. Despite this, the Juventus star is not expected to have penalties for his behavior. In fact, this is not the first time the Portuguese legend has spoken out against the consumption of carbonated beverages and fast food. In 2020, during Dubai's Globe Soccer Awards, Ronaldo said he was irritated by the fact that his son, Cristiano Jr., liked to drink (Coca-Cola). CR7 said at the time:
"Sometimes I get a little harsh with Cristiano Jr. because he likes to drink Coca Cola or Fanta.
I usually quarrel with him when he eats chips, chips and other foods, which he knows I do not like. "Even my little ones have their eyes on me when they eat chocolate."
For his personal diet, the Juventus star usually consumes 6 healthy meals a day. Foods that Ronaldo prefers include: chicken salad, fresh fish, avocado toast, natural yogurt, etc. Even in this European, his role in the Portuguese national team is expected to be crucial for the team of Fernando Santos, who comes as the reigning champion of the tournament.