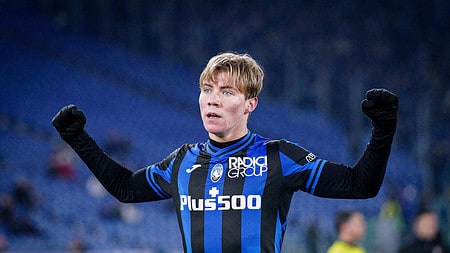 Manchester United have shown concrete interest in Atalanta's Danish striker Rasmus Højlund. The latter is a self-proclaimed fan of the "Red Devils" and dreams of playing at Old Trafford. The striker scored a spectacular hat-trick in Denmark's win over Finland, and that has caught the attention of United's bosses even more.
According to Ekstra Bladet, Manchester are convinced that Højlund has "killer instinct" in front of goal and his performances have not gone unnoticed. In all likelihood, the player will be under the target of several European clubs in the summer market. His fortune is estimated at 23-31 million pounds.
United have shown interest in Rasmus Højlund since January, and it was the player himself who commented on the situation at the time, expressing his sympathy for the legendary club. The Dane said:
"Now that you ask me, I won't hide the fact that I'm a big fan of Manchester United. So personally it would be one of the biggest achievements (moving to United) for me. But of course, that doesn't mean I'll turn down other big clubs if offers come at a certain point."
Manager Ten Hag is looking to bolster his squad with attacking options and although Højlund is not a superstar, the 20-year-old talent certainly has the potential to become one at Old Trafford. We recall that the Dane joined Atalanta from the Sturm Graz team last season and has become a starter at his club.
Despite the fact that there have been no meetings between United's representatives and the player, the interest of the "Red Devils" remains quite concrete. The English will have competition from Italian clubs, who are also expected to jump into action for Højlund's card.