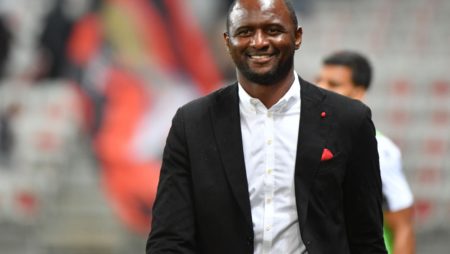 Patrick Vieira has said that there are still many doubts about the chances of the Italian national team to advance in Euro 2020. In a recent analysis, the former French footballer said that Mancini's team lacks "intensity, strength and speed". The 3-0 victories against Turkey and Switzerland do not seem to have been enough to fill the mind of Vieira, who refused to get involved in the enthusiasm of the moment the Italian team is going through. The latter is of the opinion that Mancini's confidants have not yet been tested in the face of a strong opponent.
The Frenchman told ITV:
"I think the first 2 games they played (Italy) were quite easy. I do not think they have really been tested. "I still have to wait because I think it is too early to consider Italy as one of the teams that can go to the end of the race."

Patrick Vieira
It was coach Mancini himself who elaborated in some way, Vieira's argument. In the interview after the victory with Switzerland, the number 1 of the Italian bench took care to reduce the doses of enthusiasm:
"In Europe you have teams like France, Portugal and Belgium. One of them is a world champion, the other a European champion, while Belgium is the first team in the world ranking of national teams. These are teams that have formed over several years, and it is natural for them to be more advantageous than other teams. "But anything can happen in football."
Mancini added:
"I am lucky to have very good players under my leadership, who love the game and are willing to take risks. They deserve all the credit. I try to explain the thought process to you, but it takes a lot of work to implement it. "
Although skepticism is still present when it comes to the Italian national team, Mancini's team has shown grit and character. These 2 qualities can put in trouble even the teams with better staff than the "Azure" in Euro 2020.