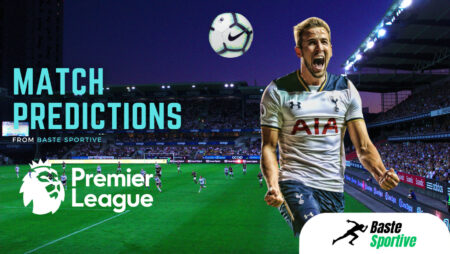 Fulham v Brentford
Both teams score
Coefficient 1.68
---
In the last 3 direct encounters between Fulham and Brentford, both teams have found the net. Moreover, these challenges have all been closed with the result 3-2. Fulham have kept a clean sheet in just 1 of their last 12 home games in the Premier League. Brentford, on the other hand, has conceded a goal in 7 of the last 9 transfers. Both teams have a lot of attacking potential, and a spectacular and high-scoring match is expected at Craven Cottage.
Tottenham Hotspur vs Manchester United
Both teams score
Coefficient 1.47
---
Manchester United have scored at least 2 goals in each of their last 5 meetings with Tottenham Hotspur. Meanwhile, regarding the spurs, in the 5 meetings that the Londoners have played under the guidance of coach Ange Postecoglou, both they and the opponents have found the way to the net. United remains the favorite team to get the 3 points, as the "Red Devils" are undefeated in the last 5 challenges with Tottenham. However, a hard-fought challenge is expected at Tottenham Hotspur Stadium.
Manchester City vs Newcastle
Both teams score
Coefficient 1.71
---
Newcastle showed super form in the opening match of the Premier League, as they won with a deep score of 5-1 against Aston Villa. City meanwhile also won their Premier League opener against Burnley. However, Pep Guardiola's team has conceded a goal in 2 of the 3 meetings played this season. Moreover, this will be the third challenge in 8 days for the "citizens" and Newcastle can use this opportunity to get the best possible at the Etihad Stadium.
---
Other football match predictions for today, sure bet predictions
| # | Competition | Team | VS | Team | Prediction | Odd |
| --- | --- | --- | --- | --- | --- | --- |
| 1 | Premier League | Wolverhampton Wanderers | VS | Brighton & Hove Albion | Brighton & Hove Albion wins | 1.93 |
| 2 | Premier League | Liverpool | VS | AFC Bournemouth | Liverpool wins | 1.23 |
| 3 | La Liga | Real Sociedad | VS | Celta Vigo | Real Sociedad wins | 1.78 |
| 4 | La Liga | Almeria | VS | Real Madrid | Real Madrid wins | 1.40 |
| 5 | La Liga | Osasuna | VS | Athletic Bilbao | Athletic Bilbao wins | 2.71 |
| 6 | Serie A | Empoli | VS | Verona | Empoli wins | 2.37 |
| 7 | Serie A | Frosinone | VS | Napoli | Naples wins | 1.34 |
| 8 | Serie A | Genoa | VS | Fiorentina | Fiorentina wins | 2.24 |
| 9 | Serie A | Inter | VS | Monza | Inter wins | 1.39 |
| 10 | Bundesliga | augsburg | VS | Borussia Monchengladbach | Borussia Monchengladbach wins | 2.47 |
| 11 | Bundesliga | Bayer Leverkusen | VS | RB Leipzig | Bayer Leverkusen wins | 2.47 |
| 12 | Bundesliga | Hoffenheim | VS | Freiburg | Hoffenheim wins | 2.29 |
| 13 | Bundesliga | VfB Stuttgart | VS | Bochum | VfB Stuttgart wins | 1.69 |
| 14 | Bundesliga | Wolfsburg | VS | FC Heidenheim | Wolfsburg wins | 1.64 |
| 15 | Bundesliga | Borussia Dortmund | VS | FC Cologne | Borussia Dortmund wins | 1.42 |
| 16 | Ligue 1 | Lyon | VS | Montpellier | Lyon wins | 1.73 |
| 17 | Ligue 1 | Toulouse | VS | Paris Saint-Germain | Paris Saint-Germain wins | 1.67 |
| 18 | Championship | Blackburn Rovers | VS | Hull City | Blackburn Rovers wins | 1.94 |
| 19 | Championship | Bristol City | VS | Birmingham City | Bristol City wins | 2.22 |
| 20 | Championship | Leicester City | VS | Cardiff City | Leicester City wins | 1.52 |