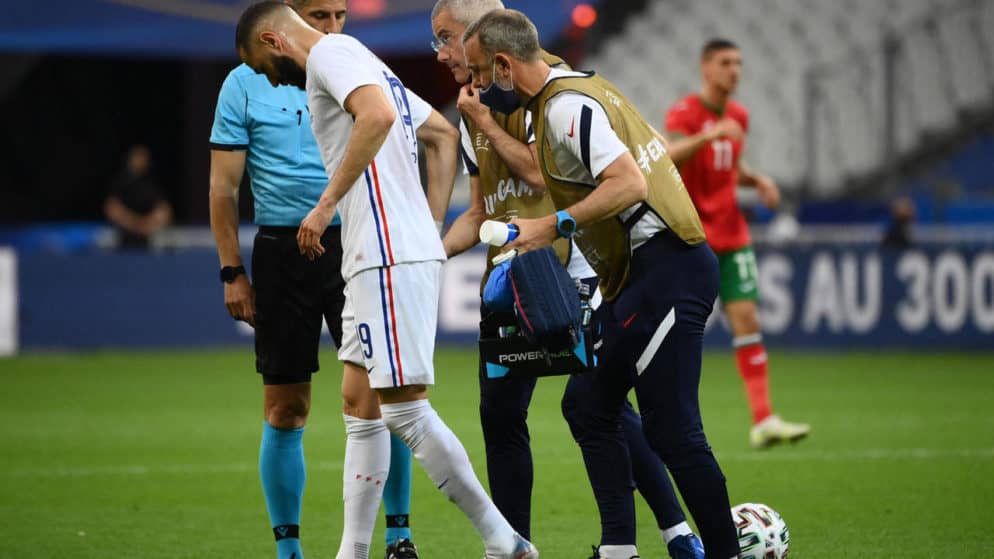 The chances for Karim Benzema to be active with the French national team in Europe are already in doubt. This came after an injury that the striker received during the preparatory match of France against Bulgaria, on the eve of the start of Euro 2020.
coach Didier Deschamps threw on the field a formation full of stars, especially in the offensive ward. Although this was reflected in the good performance of the "turkeys", Benzema's injury does not seem to have left a good taste in the French camp. The Real Madrid striker collided with one of the Bulgarian defenders during an air battle. Although the Frenchman tried to continue the game, he was later forced to leave the green field.
However, after the injury, Benzema turned to the bench and not the exit tunnel. This fact has calmed down the fans, as it shows that the damage was not of a serious degree. However, this episode could significantly reduce the chances that the striker will be activated as a starter, in France's first match in Europe against Germany.
The match is of special importance, not only because it is the opening match for the French, but also because of the opponent. Germany constitutes the real test for the Deschamps's trustees, who are quoted as the top favorites to lift the prestigious trophy.
For French fans, the good news is that if Benzema is not in the right shape, his replacement is again a high-caliber striker, like Olivier Giroud. The Chelsea player has made over 100 appearances with Les Blues, and was among the key players who brought France the 2018 World Cup triumph. Although the striker's form has fluctuated over the last season, Didier Deschamps does not have a better alternative to complete the center of the attack. It remains to be seen what will be the name that will lead the turkey attack in the Euro.