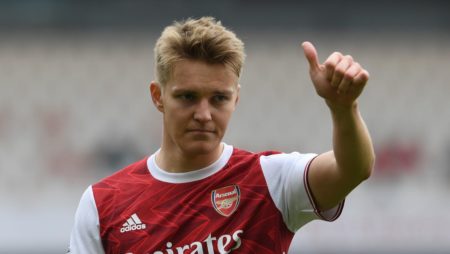 Arsenal Londoners have reached an agreement with Real Madrid for the transfer of Martin Odegaard. The 22-year-old talent cost the Arte team 30 XNUMX million and is expected to play an important role in achieving the team's objectives. Meanwhile goalkeeper Aaron Ramsdale will also be part of Arsenal, as he has completed medical examinations. Coach Arteta commented on the new approaches:
"A lot of things he (Odegaard) brought in last season (on loan) made us a better team. We needed more alternatives and creative players. He is still a young player, but has experience in big clubs. "Odegaard has a unique talent that fits the way we want to play, so I'm happy the club took that step."
The No. 1 bench of the "gunners" also expressed his satisfaction with the transfer of Aaron Ramsdale:
"Aaron is a very talented young goalkeeper. He has experience with the English national team and will bring competition to the team. And that's what we want, healthy competition. That's why we identified Aaron as the ideal option to achieve this. "
Meanwhile from France, Mauricio Pochettino seems to have not yet decided the long-awaited moment of Lionel Messi's debut with PSG. Neymar and Spaniard Sergio Ramos also missed the Parisians' first meetings in the league.
Despite this, the French coach stated that Messi has adapted well to the team, and the overall atmosphere in the team is quite positive. Pochettino also assured his fans that Mbappe will not leave this season for Real Madrid. He said:
"Mbappe is our player and I love him here this season. He still has a year on his contract. Even if he does not renew, he remains our player. We are very pleased with him, and from what I understand, he is also pleased with us. "